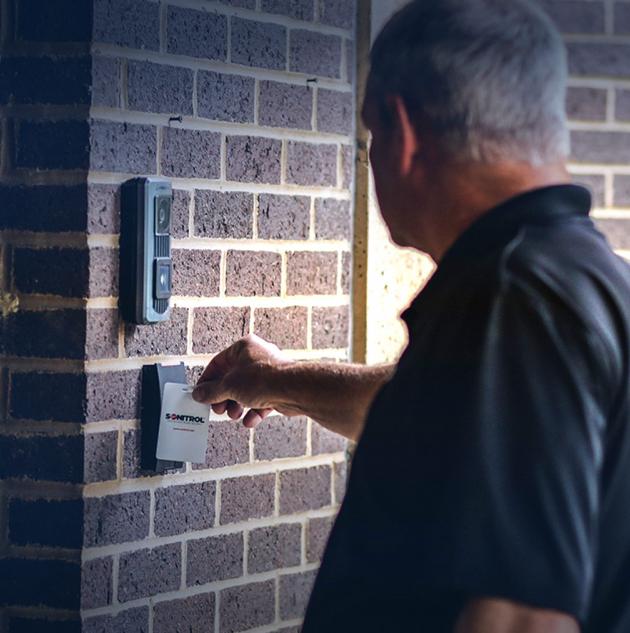 Subscribe
Choosing the Best Door Access Control System
Access Control | Commercial Security | Business Security
What is a door access control system?
High security is essential to the success and growth of any business. Whether you run a gated community or your IT company has a secure server room, there will always be a reason to protect your people and resources. Today, the new security trend is door access control systems.
Door access control systems are more versatile than simple door locks. These systems prevent unauthorized personnel from accessing the room or building, particularly in commercial offices, retail, stores, community centers, and R&D rooms. You can find door access control systems in elevators, interior doors, gates, and exterior doors.
Door access control systems simplify building security in two ways:
Prevent unauthorized entrance to secure buildings and rooms
Allow authorized personnel convenient and safe access
When exploring options for door access control systems, you might feel overwhelmed with jargon and not know what sets different types of systems apart. In this guide, we cover everything you need to know about access control to help you choose the right system for your needs.


How important is a door access control system?
A door access control system allows authorized people to enter without waiting for someone to open the door. Smart entrance systems are perfect for visitors who need a one-time pass. They can receive a revolving password that is simpler than sending an employee to walk them personally through every door.
Door access control systems provide a seamless experience for visitors and regular occupants and reduce time spent on property management and security. Smart systems mean no more lock replacements and key transfers.
Here are places where improving security can provide value:
Apartments - Getting a door access control system for your apartment buildings can simplify granting access for visitors, staff, and residents. These smart systems control who can use parking and enter buildings. A door access control system enhances residential communities and security, which can help with renter retention.
Commercial buildings - Unlike apartments, commercial buildings have a timetable for authorized personnel. After a certain time, restrictions apply to certain facilities or rooms. Covid-19 has made this schedule more relevant than ever. Some workers are hybrid, meaning there are days they should have access to office space and days they should not. Hybrid schedules change all the time, so having one person manage the schedule would be a full-time job, but you can update access times with a smart system.
Gated communities - Without an access control system at the game, visitors can experience tailgating, long waits, and car stacking. People like living in gated communities because they are safe, but no one likes the inconvenience of a gate that takes forever to open. A gate access control system can provide convenience with safety. Today's smart systems can recognize license plates or scan a key fob attached to your car.
Another convenience that comes with smart gate systems is visitor check-in. Instead of the gatekeeper calling a tenant, they can simply check the digital guest pass list online.
What are the components of a door access control system?
Door access control systems have electronic hardware at each door and entryway. Authorized personnel must carry proper credentials or codes to identify themselves as authorized and gain access. Smart doors completely replace the traditional lock and key methods with electronic controls, including smartphones, PIN codes, key cards, and fobs.
Access systems identify users through unique digital data. Administrators can operate these systems remotely. They can grant or disable access from anywhere in the world. The digital nature of door access control systems means tracking the name of the person and the time of entrance has never been easier.
To select the door access control system that's right for you, consider the type of access control hardware, the location of your server, and the best key or code. Although there are various access control systems, they all have a few commonalities.
Control panel - The control panel can be cloud-based software or a physical device. It keeps core data like access permissions and authorized personnel.
Reader - Both sides of the door or entrance can have a reader that scans mobile credentials, such as QR codes on mobile phones, to signal the control panel to grant or deny access.
Release mechanism - After the reader signals the control panel for access, a magnetic or electronic mechanism releases, and the authorized personnel can open the door.
Credentials - There are hundreds of variations to provide the reader with your credentials. The most common types of keys include:
Key fobs
Key cards
Keypads
Facial recognition
Mobile access control
What are the types of door access control systems?
Many types of access control are available today. Here is a breakdown of a few of the most common types.
Physical vs. Logical
The differences between physical and logical access control are the location of the access control panels and the types of credentials that can open them.
Physical access control systems that are in a physical location. These systems require a key card or PIN code. You can find physical systems in gated communities or dorm rooms.
"Logical" refers to access control systems in a digital space. For example, entering mobile credentials to view a shared file or using a fingerprint scanner to log into a business VPN.
Security vs. Convenience
Physical door access for buildings comes in three models that vary in their security and convenience. Depending on how many people need access and the level of security you need, you can choose between these types:
Discretionary models are the most convenient. Discretionary systems allow multiple system administrators to control access permissions. These models are best for companies with many employees but are not too worried about security. Discretionary models can help inventory managers track who is coming in and out of storage rooms.
Mandatory models are the most secure. Mandatory access control only allows one administrator to control access permissions. Although mandatory systems are secure, they are inconvenient. They work best when the company is small and one person can manage every employee and customer.
Role-based systems can have more than one administrator but are still more secure than discretionary models. Different users receive permission based on the roles that the building administrator assigns. This method offers the simplest approach to setting permissions. An organization that has hundreds or thousands of employees often prefers the simplicity of a role-based door access control system.
Open vs. Proprietary

Open-access control systems have interchangeable software and hardware. An open system means one company's dashboard can work with another company's control panel. These systems are great if your organization needs hardware and software from different sources.
Proprietary access control systems are not interchangeable. Installing a propriety system means using the hardware and software from the same source. Getting an upgraded or more advanced system would mean replacing the software and hardware. The one advantage of proprietary access systems is that the integration between hardware and software will be seamless.
Legacy vs. Cloud-Based
The main difference between cloud-based and legacy software is the storage location for the data.
Legacy access control systems have a computer on the property that acts as a server. Legacy systems can be more secure than cloud-based systems, but your organization must be large enough to hire a dedicated team of IT administrators to monitor the server.
Today, most access control systems store security data on the cloud with an off-site server. Dedicated professionals maintain and update these servers. For most companies, outsourcing data storage is the cheapest and most secure method for storing data.
How to install a door access control system?
Installation is an essential step that impacts the effectiveness of your access control system, so don't simply go with the first inexperienced company you find. Do your research when looking for a new door system, and remember that the price and process of installation vary depending on the installer and the building infrastructure.
Request an onsite assessment from the installation company you choose. That is always the best way to assess the complexity or simplicity of the project and increase the chances of receiving an accurate quote.
How can I find the right door access control system?
It is important to research hardware and software to find the system that works for your company. No matter what system you choose, ensure it can assimilate into all the other systems in your building.
Whether you are looking for a system with a camera or visitor management, touchless access Sonitrol New England is the right solution. We understand that a door access control system is vital to your property's security. We offer custom access control solutions for buildings and campuses of all sizes. We are so confident in our door access control systems that our intrusion detection technology comes with a $15,000 warranty if we miss a break-in.
Our premier service can configure for any workplace or campus situation. Contact us online or call 860-247-4500 to schedule a free security system assessment today.